Volumetric piston depositorProducts depositors and mixers
A Volumetric Piston Depositor is the perfect tool for automatically filling liquid, viscous and semi-viscous products. This handy machine is ideal for packing hot soups, jams and spreads, yogurts with fruits, salsa, hummus & cheese dips, cottage cheese, white cheese. With its precision piston depositor, you'll get a consistent and accurate fill every time – ensuring that your products look great and taste amazing.
The DV2000 is a top-of-the-line volumetric piston depositor, perfect for manufacturers of fresh food. This versatile machine can handle products ranging from liquid to viscous, and can even accommodate chunks without smashing them. With its easy-to-use controls and reliable performance, the DV2000 is a valuable addition to any production line.
The DV2000 is an automatic volumetric piston depositor, specifically designed for fresh food manufacturer, for products ranging from liquid to viscous. In particular, when the products contain (big) chunks, they are neither cut nor smashed.
This automatic piston depositor fills liquid and semi-viscous products like: hot soups, jams and spreads, yogurts with fruits, salsa, hummus & cheese dips, cottage, white cheese.
This volumetric piston depositor for fresh food automatically fills viscous products like: protein salads, potato or pasta salads, cream cheese based dips, creamy coleslaw, sour cream based dips, peanut butter, cakes & cookies dough.
It can fill also automatically sticky products like: glues, epoxies, paints, caramels. This piston depositor also fills hot products as well as cold products.
FEATURESDV2000 VOLUTETRIC PISTON FILLER
High speed
High accuracy
PLC controlled
Control GMC – HMI: a user-friendly touch-screen machine/operator interface, with status, set up, a maintenance screen, and production statistics
Control GMC – Safeguard product quality & integrity: seamless design / large diameter dispensing valve / all parts in contact with the product are made of stainless steel 316 and other CFIA & USDA approved material / cleaning friendly: easy to dismantle and to wash within 10 minutes
Control GMC – Easy maintenance: easily accessible mechanical parts, simple open design. On-screen error detection and diagnosis. In-house programming & support. NEMA 4X wash down fiberglass control box, with temperature control when use in cold environment
Control GMC – Flexibility: simple & quick product changeover, by a height adjustable dispensing valve holder / wide span of filling quantity through an adjustable stopper inside the pneumatic cylinder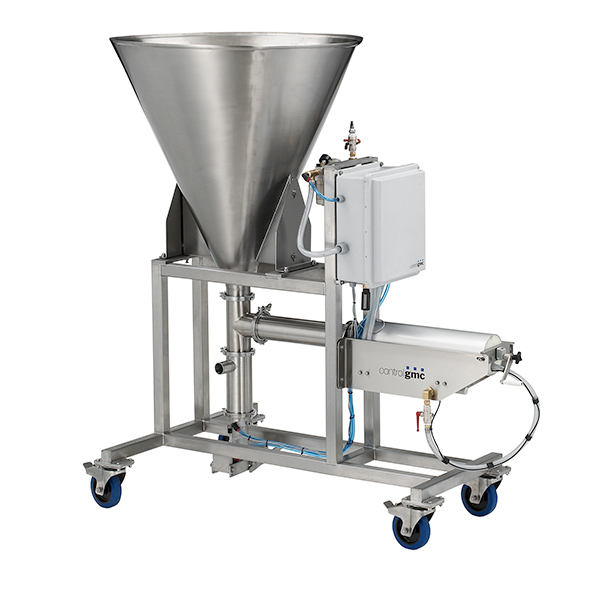 DV2000 Volumetric Piston Depositor
OPTIONS
1 bigger dispensing valve of 3″ diameter
1 special type dispensing valve: for either semi-viscous or viscous products, either horizontal or vertical, linear or rotary, bottom fill, etc.
1 bigger hopper of 600 lbs capacity
1 level sensor to control the pump that feeds the hopper, for when this is the case
1 PLC & 1 HMI for when the depositor is purchased as a stand alone machine
1 filling station, for the autonomous version of the depositor, composed of: 1 height adjustable dispensing valve holder, 1 stainless steel table attached to the depositor, 1 set of adjustable guide to quickly position the empty container at the filling position, and 1 pedal to start and stop the automatic filling sequence
SPECIFICATIONS
Range: 4 oz to 5.5 lbs per cycle, with built-in multi-cycles capability
Maximum speed per minute, up to: 60 for 1 lbs tubs, and 30 for 5 lbs buckets
Filling accuracy: ± two hundredth of a pound
Dispensing valve diameter: 2″ by default or 3″ in option
Hopper`s capacity: 230 lbs by default or 600 lbs in option
Electricity: 115 VAC, 5 amps, 60 Hz
Compressed air: up to 6 cfm @ 100 psi
Footprint, approx (L x W) : 75″ x 40″ for a 600 lbs hopper and 70″ x 40″ for a 230 lbs hopper