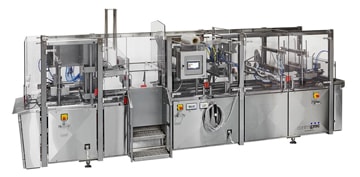 AUTOMATIC PACKING MACHINES AND FILLING LINES
Innovative
Machines bringing innovation and reliability to your production lines.
Versatile
Flexible design allows many different containers sizes & shapes on the same line.
Faster
Up to 60 one-lb containers per minute per lane. Changeovers in 20 minutes maximum!
Best value for money
Reliability and fast changeover assure you the best product value on the market.
We are a leading designer and manufacturer of fully automatic open mouth container filling lines.  Our machines are mainly used for food packing / packaging in cups, tubs, trays, and buckets.  Our filling machines can be used with many different products like feta, ricotta, cottage cheeses, hot soups, prepare salads, dips, sauces, dried fruits and nuts, powder, salsa, dairy products, ice cream, frozen crumble goat cheese,etc…
Our flexible design with unique preset tooling allows the operator to do a complete container changeover in less than 20 minutes. Typically, with thick products, we can fill up to 60 one pound cups per minute on a single-lane machine.
ANY SIZE, SHAPE, AND MATERIAL OF OPEN MOUTH CONTAINERS
Our cup filling lines can manage almost any size, shape and material of open mouth containers such as round, square, rectangular or oval cups, tubs, trays and buckets, either in paperboard, aluminium or plastic. We can fill and close tamper evident containers and clamshell type ones. We can also fill, seal and cap sealable ones.
Our automatic cup sealing machines are adapted to work with either plastic film roll or precut foil or plastic lids. Our no vacuum MAP version is fast and efficient. Typically less than 1% of residual oxygen. With the appropriate container and film our seal is good enough for high pressure process (HPP). We can also supply a table top version for small production run.
MACHINES BY APPLICATIONS
LIQUID, POWDER, GRANULAR, CHUNKY AND VISCOUS PRODUCTS FILLING LINE IN CUP, TUB AND TRAY